1. ADDING FEATURE TOGGLES TO SPRING BOOT APPLICATIONS USING TOGGLZ
Features toggles help developers to make smaller, faster and less risky changes to software. Let's say a requirement that will take a significant amount of effort to complete is going to be implemented. Two popular approaches are:
Branch the source code and develop for the next quarter or so. Once the implementation is completed you might likely face problems merging back this long-lived branch. You might end up asking your peers to stop committing changes or the SCM might get locked for the next 2-3 weeks until all the conflicts are resolved. Possibly delaying bug fixes and new features from being released to clients.

Implement the requirement in trunk / main / master branch, hiding incomplete functionality behind a development or release toogle. This allows the development team to work in the same code base, avoids the complexity of maintaining multiple branches, reduces the release cycle while getting a timely feedback when paired with a CI / CD pipeline.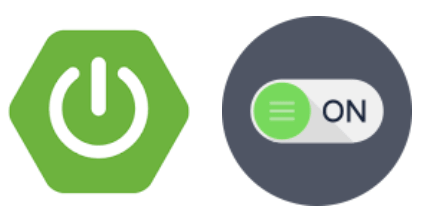 This tutorial introduces implementing feature flags in Spring Boot applications using Togglz and togglz-spring-boot-starter Spring Boot starter. How to configure and use them, some tradeoffs and a word of caution.
---
---
---
---
---
---
---
---
---
---